Anthrocon 2016 Dance Competition Rules, FAQ, and Signups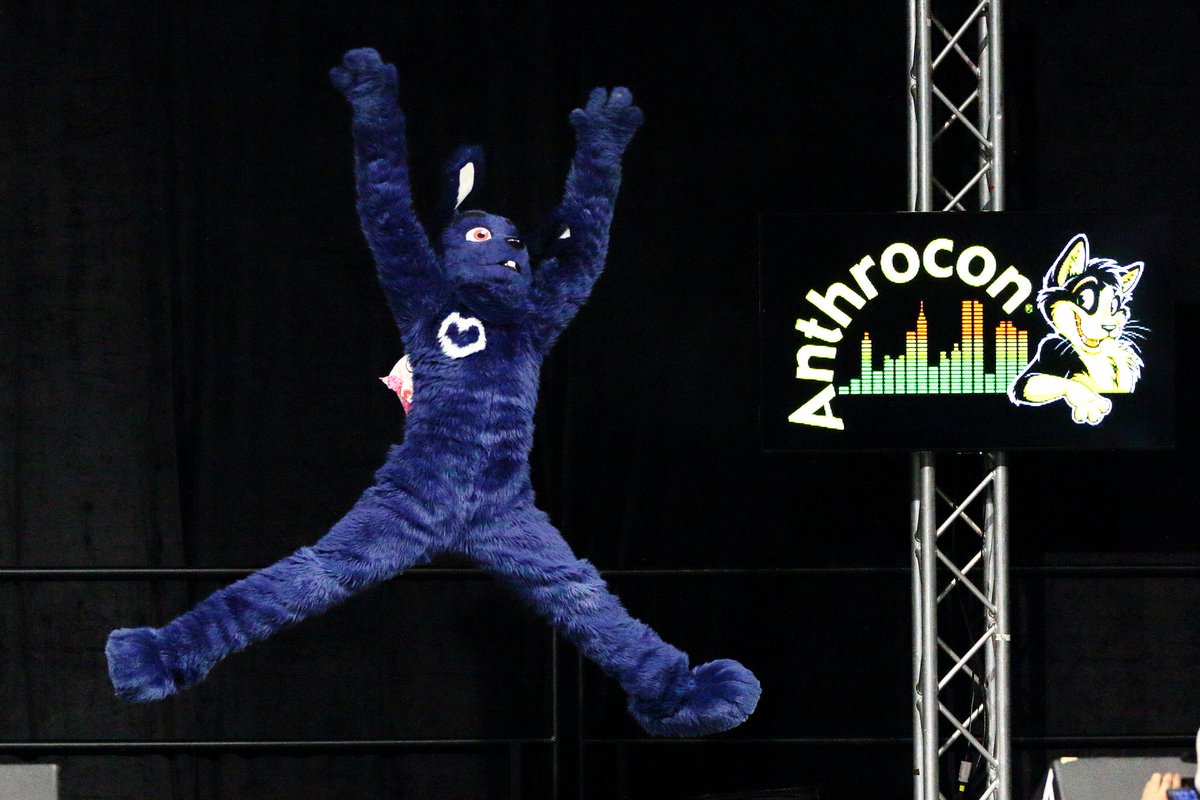 With another Anthrocon comes another exciting edition of one of the most exciting events of the convention - the Fursuit Dance Competition!
Join Anthrocon and all the amazingly talented dancers as they take to the stage for the 7th edition of Anthrocon's Fursuit Dance Competition. With new and familiar faces alike looking to show their tail-shaking skills and make the crowds of Anthrocon cheer, we can't wait to see the amount of talent that this year brings.
Interested in joining the Dance Competition? Click this link to view the full Dance Competition rules!
Want to sign-up online for the Dance Competition as a SOLO PERFORMER? Click here!
Want to sign-up online for the Dance Competition as a GROUP PERFORMANCE? Click here!
FAQ:
Can I sign-up at the panel? Yes, but sign-up for the preliminaries on Friday evening will only take place 30 minutes prior to the scheduled panel start time to the time that the panel starts. Once the scheduled start time begins, sign-ups will be closed.
How long can I sign-up online? Through the links above, or found within the Anthrocon 2016 Fursuit Dance Competition rules (also found above).
I'm a minor - can I still sign up? Yes! Our event welcomes all competitors aged 13 and older.
Are props allowed? Yes, but there are certain limitations. See the "Restrictions" in our Rules.
What kind of music will be played? We will be playing more "standard" tempo music for the preliminaries, in order to cater to all dancers. We understand the concern over the freestyle preliminary system, but after much deliberation with our team, we will be putting more effort into making sure everyone has a fair try.
Why are the preliminaries done "freestyle", but the Finals done "routine"? This is due to the large volume of dancers that sign up. Though we have been debating between having "routine" tryouts, the organizers have decided to remain with "freestyle" tryouts for Anthrocon 2016. As mentioned above, we are working very hard to improve the process for all dancers.
--
Any other questions and/or comments can be sent to . We hope to see you supporting the amazing talent within the community, whether on the stage or in the crowds cheering. See you at Anthrocon!
Wed, 2016-05-04 04:34 pm
#1
Heya! I just had a question regarding characters/fursuits that we dance in.
I registered as Silverfang, but I'll actually be getting a fursuit of my fursona finished soon, so I'm wondering who to contact to change my dance competition registered name? The new name is Owen, and he's also a partial like the other suit is registered with, so that won't need to be changed.
Sun, 2016-05-08 11:14 am
#2
Please e-mail me at so we can sort out the name change for you!
Mon, 2016-05-09 09:37 am
#3
Thu, 2016-05-19 08:00 pm
#4
Still bummed by the fursuit requirement. I mean I get thats what makes it "furry", but some of us don't really care that much for fursuits in general. I apperciate the time and effort put in to making them but I lack to see the appeal. Anyway just a suggestion, I assure you its not some cash strapped furry whining about stuff, I do pretty well for myself.
If all else fails I suppose one could get a $100 fursuit from china
Or perhaps ears and a tail dance competition? Anyway thanks for listening to my rant, have an awesome day and keep up the great work. Best con in the world!
Thu, 2016-05-19 10:54 pm
#5
There are usually dance competitions for non-suiters, known as "Floor Wars" at Anthrocon. We've got both bases covered!
Thu, 2016-05-19 11:21 pm
#6
Bingo. I introduced Floor Wars at Anthrocon 4 years ago as an alternative for those that don't want to dance in fursuit and still compete.
Thu, 2016-05-19 11:23 pm
#7
As mentioned by Chiaroscuro, I run another dance contest event known as "Floor Wars" which has non-fursuit categories. Find out more about it here: https://www.anthrocon.org/node/34981/anthrocon-2016-floor-wars-rules-faq-and-signups
Wed, 2017-04-12 12:00 pm
#8
When will we be able to sign up as solo/group dancers for 2017? I want to be able to sign up online but the link is old amd for last years dance comp. When will you guys change it?
Wed, 2017-04-12 01:11 pm
#9
Hey there! Sorry for the delay. We'll be posting the updated info for 2017 by the end of this week.
Sun, 2017-05-21 10:35 am
#10
Hello! The new link to sign up for the dance competition has not been put up, and Anthrocon is approaching very soon. I understand you're busy but please telll me when the new links are up. Thanks!
Tue, 2017-05-23 11:28 pm
#11
The links have been put up actually. There is a whole other post thread for 2017 that contains the signups.