Fursuit For Sale!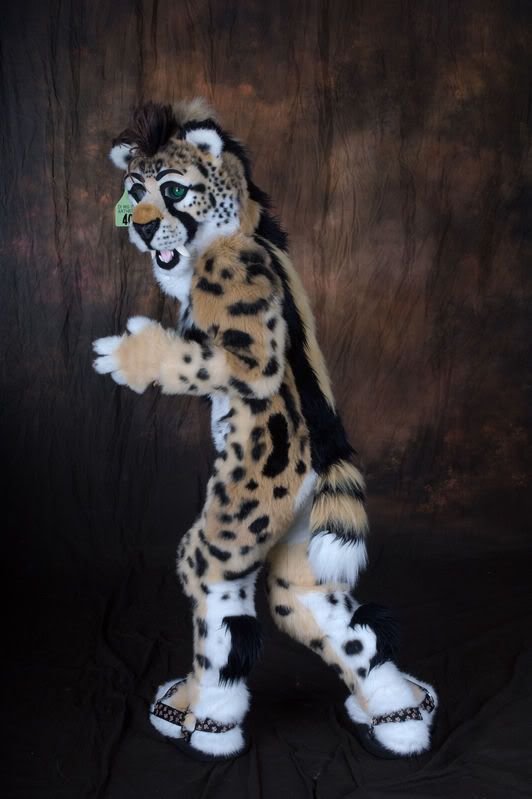 http://www.furbid.ws/cgi-bin/auction/item.pl?item=232355580
http://www.furbid.ws/cgi-bin/auction/item.pl?item=232355580
http://www.furbid.ws/cgi-bin/auction/item.pl?item=232355580
Sassy, spotty sabertooth (well technically sabertooth/king cheetah) for sale! Perfect for Anthrocon's 2010 theme: modern stone age! Or any con! People love this suit!
She was made by Midori in Spring 2008. Suit is in really good condition - has been used a few times, but no major damage. Airbrushing still looks as good as in the photos (and she's so soft!). There is some dirt and scuffing on the bottoms of the feet - they have pawpads - you may want to wear sandals with this suit. (I tried, but kept tripping over them because I'm a klutz!)
She will fit up to:
5'8"-5'9" at the very most
150ish lbs, give or take (I'm 140 and 5'7" - dress size 6-8, and she fits like a glove - but I have big hips so she will probably fit someone heavier than 150, and there's some give to the fur)
Shoe size 10 womens
Head circumference ~22-24" (I have a small head and it's a little large on me.)
*The cuffs on the handpaws are very short; I will be including some bone colored cubby fur (the color of the majority of her bodysuit) so you can lengthen them yourself - I just never got around to it. Gloves are on the small side, be warned. (But the furs used are pretty easy to find so it shouldn't be a problem obtaining bigger paws!)
*The feet are attached to the bodysuit and are built on size 10 women's slippers. They're very comfortable and the fact that they are attached not only makes for a sleek, seamless look, but makes the suit surprisingly easier to wear.
*Cute, stubby tail also attached to bodysuit. Like a bee on your bottom.
*Frontal zipper
*Comfortable, balaclava-based head - easy to breathe in!
*RAD MOHAWK.
*3D eyes and gorgeous airbrushed spots and stripes
*Badges (by Maggock and Louve) with the name "Saskia" if you'd like!
*Footpaw sandals pictured NOT included.
*More pics! http://db.fursuit.org/?c=viewsuit&id=1089
I will ship internationally.
Tue, 2010-03-16 11:08 pm
#1
FYI, the links to Furbid are 404. Seems that the ellipsis are throwing things off.